Happy Birthday, Frankenstein!
In 2018, we're celebrating the 200th anniversary of the original publication of Frankenstein! Even though this book is two centuries old, it's not hard to imagine it as being written in our contemporary times. Along with the recent release of the movie Mary Shelley, there are some great new books out that tell Shelley's life story and re-imagine the original story of Doctor Frankenstein and his monster. I've chosen to highlight several that I've read in the past few months that could be used as standalone texts, either for biographies or fiction, or be incorporated into larger units on Frankenstein.
Mary Who Wrote Frankenstein written by Linda Bailey and illustrated by Júlia Sardá. 9781770495593
Grades K-3. The cover alone of this book excited me and my coworkers when we received a sample of it! The book mostly covers Shelley's early life through her writing of Frankenstein. Family strife with her stepmother and father are mentioned, but a lot of the gritty, tragic details of her life aren't included for the younger audience. The color pallet is dark with deep oranges and red interspersed throughout, but the text doesn't make the book too dark for youngsters. At the end is a lengthy author's note about the author's experience reading Frankenstein for the first time, Shelley's mother Mary Wollstonecraft, and Shelley's premature death. Although not a scary story itself, this would be a great read for Halloween or for a unit on biographies or women writers.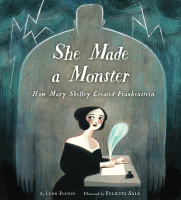 She Made a Monster: How Mary Shelley Created Frankenstein written by Lynn Fulton and Illustrated by Felicita Sala. 9780525579601
Grades PS-3. This biography of Mary Shelley mostly focuses on the evenings that inspired Shelley to write Frankenstein. At a cottage on Lake Geneva with friends, a discussion on lightning and unlocking nature's power sparks an idea into her about a monster who comes to life with electricity, and the horrors that come with its creation. Shelley draws strength from a picture of her mother, who believed that women and men were equal and women could achieve anything they desire. The book ends with Shelley dreaming of Frankenstein's monster, and an author's note describes the impact of the novel after its publication.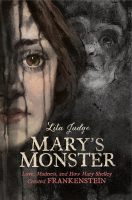 Mary's Monster: Love, Madness, and How Mary Shelley Created Frankenstein by Lita Judge. 9781626725003
Grades 9-12. Once you learn a bit about Mary Shelley's life, it's hard to imagine someone overcoming so much adversity and hardship to write one of the most iconic books in literary history. Written in verse, Mary's Monster brings readers into the life of Mary Shelley starting from a young age. The book touches on young Mary's inspiration from her mother, Mary Wollstonecraft, her strained relationship with her family, and her complicated marriage to poet Percy Bysshe Shelley. The book is interspersed with pages voiced by Frankenstein's monster that reflect the darkness Mary feels inside. The illustrations are dark and heartbreaking and help illustrate the sadness and hurt of Mary's life. This book would be an excellent pairing to read along with Frankenstein.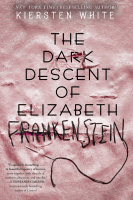 The Dark Descent of Elizabeth Frankenstein by Kiersten White. 9780525577942
Grades 9-12. This book is from the perspective of Victor Frankenstein's love interest, Elizabeth. Elizabeth is a survivor, having lost both of her parents, living in an orphanage, and eventually being taken in by the Frankenstein's to be a companion to young Victor. They grow up together and develop an extremely close bond–so strong that Elizabeth will do anything to ensure Victor's safety, and her future with him. The majority of the story runs parallel to the original Frankenstein story, with Elizabeth reacting to events and attempting to discover (and help) Victor survive the monster. Elizabeth isn't a typical passive, meek female character; she takes her future into her own hands to ensure she is safe and off the harsh streets.