Nonfiction with Lots of Laughs
Mary Roach introduced me to funny nonfiction. While wandering a bookstore, I saw a book titled Stiff: The Curious Lives of Human Cadavers on the new paperback nonfiction table. Even the title made me laugh. Despite the topic—dead bodies!—and the serious information, the book was filled with laugh-out-loud moments. I'd always liked nonfiction, but Roach's addition of dry humor was new to me.
Nonfiction can be a tough sell for kids who are used to taking tests on the information provided by textbooks. Fortunately there are books on crazy topics and others with a marvelous combination of humor with facts. Poop Happened: A History of the World from the Bottom Up by Sarah Albee (unfortunately now out of print) had me careening from fascination to laughter to feeling grossed out. And lucky students will have seen Georgia Bragg's How They Croaked and How They Choked in their school or public library.
Here are four more new titles that will be popular with young readers whether or not they are fans of nonfiction—and will be excellent choices for reluctant readers as well.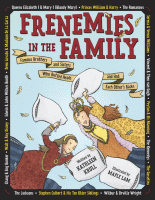 Frenemies in the Family : Famous Brothers and Sisters Who Butted Heads and Had Each Other's Backs by Kathleen Krull. 9780399551246. 2018. Gr 4-7.
Some siblings get along and some fight like…well, like siblings. Read about 15 famous siblings whose relationships were characterized by rivalry, caring, illness, and devotion. The short anecdotes are funny and illustrations are light-hearted, with comics presenting more information. For example, Princes William and Harry had very different personalities as boys, with William being the more serious and Harry loving jokes. In fact, when his grandmother got her first cell phone, Harry programmed her queenly greeting: "Hey, wassup? This is Liz."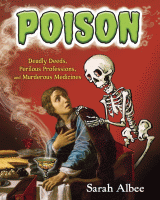 Poison : Deadly Deeds, Perilous Professions, and Murderous Medicines by Sarah Albee. 9781101932247. 2017. Gr 5-8.
Take an illustrated look at poisons and their uses from ancient times to today. Albee explores various poisons and who created them, how they were used—and misused—and their antidotes. Beginning with ancient times, she relates stories of famous poisoners and their victims, as well as the many ways people have poisoned themselves accidentally. Though this gruesome subject will not be to everyone's taste, it is made palatable through Albee's humor and irony.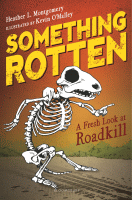 Something Rotten : A Fresh Look at Roadkill by Heather L. Montgomery. 9781681199009. 2018. Gr 4-8.
When the author saw a squished rattlesnake on the side of the road, she didn't think "Gross!" and keep on driving. No, she stopped by to see for herself how a rattlesnake's fangs fold back when it closes its mouth. She's not the only fan; scientists have made important discoveries from the study of roadkill. Though not for everyone, kids who like quite a bit of blood and guts with their science will be fascinated to find out that "Death is only the beginning"—for mummies and roadkill.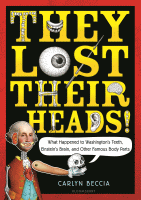 They Lost Their Heads! : What Happened to Washington's Teeth, Einstein's Brain, and Other Famous Body Parts by Carlyn Beccia. 9780802737458. 2018. Gr 6-8.
I'd heard about Washington's teeth and Einstein's brain, but I never realized how many other individuals had lost parts of their bodies after they were deceased. Beccia relates the stories of 15 famous people whose parts have gone astray, as well as who took it and why and where the part has ended up. She also talks about burial traditions and the use of bodies in research and forensics. Beccia writes in a chatty manner, often warning her readers not to eat anything while they are reading—even as she describes what delicious treats she herself is enjoying.
And don't miss these older titles: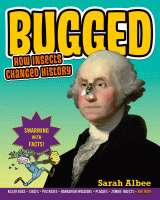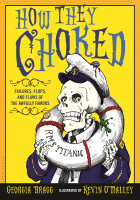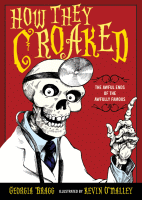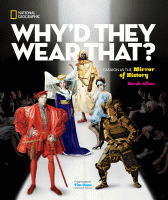 Bugged : How Insects Changed History by Sarah Albee. 9780802734228. 2014. Gr 5-8.
How They Choked : Failures, Flops, and Flaws of the Awfully Famous by Georgia Bragg. 9781681192161. 2016. Gr 5-8.
How They Croaked : The Awful Ends of the Awfully Famous by Georgia Bragg. 9780802727947. 2012. Gr 5-8.
Why'd They Wear That? : Fashion As the Mirror of History by Sarah Albee. 9781426319198. 2015. Gr 5-8.